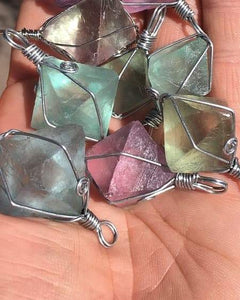 Fluorite is a Vibrant, Amazing Crystal as it comes Naturally in the shape of an Octahedron, one of the Platonic Solids that corresponds with the Element Air and the Attribute of Love. This stone Focuses on the Heart Chakra, however, the Color of the Stone can also affect everything it may work on. 
Fluorite is said to help Harmonize your Energies and is a Tool of old Alchemists. Drawing the stone close to your Heart Chakra, visualizing your Negative Emotions Transmuting into the Crystal allows one to easier see the Solutions to change those feelings into something Constructive. The Octahedron Shape is one of Two-Pyramids residing opposite of each other. For this reason, Fluorite helps one to see their True Nature as opposed to our usual Self-Sided approach. Seeing the Reflective Nature and Alchemy within this Stone, we are able to use the Tool to see this in Ourselves. The Air Energy found within the Crystal allows us to Open ourselves to the ever Changing Winds of our Life and helps us not only to adjust our sails but also learning a deeper understanding of Being in the Flow. Assisting you in finding your Truth; Stabilizing and Integrating Erratic Energies; Amplifying your Metaphysical Practices and bringing things into and out of your Hearts Center; Fluorite is something every Alchemist needs on their journey of Discovery!!!
Your order will come with a chain necklace that has also been imprinted with Mystech's 7.83Hz Resonant Frequency.  The stone colour may vary from what you see in the picture as the hues of Fluorite vary.
Imprint Frequency:  7.83Hz — Natural Schumann Resonance
Strength Level:  Level 2 
7.83Hz has reportedly been known to IMPROVE things such as but not limited to: